Coral Gables Destinations
Eating House
804 Ponce de Leon Blvd Coral Gables, FL 33134 (305) 448-6524
Chandlers Place
166 Alhambra Cir Coral Gables, FL 33134 (305) 444-1121
Gourmet Table
4555 Ponce de Leon Blvd Coral Gables, FL 33146 (305) 669-0677
The Seven Dials
2030 S Douglas Rd Coral Gables, FL 33134 (786) 542-1603
Pincho Factory
30 Giralda Ave Coral Gables, FL 33134 Phone number (305) 446-5666
Frenchie's
2618 Galiano St Coral Gables, FL 33134 (305) 442-4554
Love Is Blind Food & Wine
225 Altara Ave Coral Gables, FL 33146 (305) 748-6118
Fratellino
264 Miracle Mile Coral Gables, FL 33134 (786) 452-0068
Swine Southern Table & Bar
2415 Ponce De Leon BlvdCoral Gables, FL 33134(786) 360-6433
Swine Southern Table & Bar is quite a fun and interesting place to eat. It is a Southern style cooking place. They are very inventive with their dishes. You can expect to find meals using all parts of a hog. They have a quote of, "The only party of a hog you can't us is his squeal." They know their stuff here. You will get meats that are cooked to perfection. The mac and cheese here, most would say it is the best in the Coral Gables area. You will get excellent service here, with small talk and making sure you are well taken care of. This place is popular, so expect some kind of wait if you are just walking in. For dessert, try the sticky icky bun.
Seasons 52
321 Miracle MileCoral Gables, FL 33134(305) 442-8552
Seasons 52 is a great restaurant with a little fresh twist. Their menu is inspired by what ingredients are at their peak and freshest. That means their menu is always changing at what you have in August might not be available in February. They also use rustic techniques to cook the food like, a brick oven or an open fire grill. All techniques that bring out the natural flavors of the food. You'll find wines from all over the world to try. The ripe plum tomato flatbread will be a present for your stomach. You can't leave without trying a dessert. A popular choice is the pecan pie. Bring a group here for some seasonal, delicious food and global wine choices.
The Local
150 Giralda AveCoral Gables, FL 33134(305) 648-5687
The Local is a small bar and restaurant that serves up comfort food, craft beers and cocktails. The food the serve here is locally sourced, so you're promoting local businesses. They also have around 18 craft beers that they rotate out for new stuff to try. If beer isn't your thing, they have a small-batch of craft wine. They have a chalkboard that they update daily with new food and cocktail specials. The parmesan cheese fries are a must have when you are here. The best nights to come in are Thursday, Friday, and Saturday. They are open until 2AM every evening so it's the perfect place to wind down from a great night out.
Bulla Gastrobar
2500 Ponce de Leon BlvdCoral Gables, FL 33134(305) 441-0107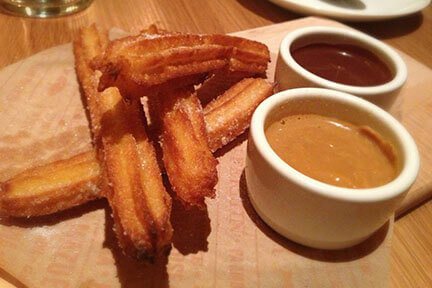 Bulla Gastrobar is a beautiful Spanish restaurant that serves tapas, beers and wines. It's located in a really beautiful building with lots of decorative touches. You can start the night off with some cocktails or beer. Then move onto the delicious tapas. You should try the patatas bravas with aioli or the huevos bulla. They are popular choices with the customers. They have plenty of space to have large groups and parties there. If you enjoy a nice breeze and some sun, they have an outdoor seating area that you can sit at. This is an excellent place to go before you start your night out. Get some drinks and some food before the fun starts.